Dr. Brian H. Bowen, President
Dr. Brian Bowen has been the SAVE President since 2008. He has been on the SAVE Board since its founding days in 1997. He was employed by the University of Sierra Leone, Fourah Bay College (FBC), from 1974 to 1986 (supported by a British aid program). During these twelve exciting years, while he taught engineering at FBC, he enjoyed the fellowship of Scripture Union Sierra Leone (SUSL), and the Sierra Leone Fellowship of Evangelical Students (SLEFES) serving on various committees of these two Bible based ministries. He is a graduate of Purdue University. He met his wife B.Lynn, a U.S. Peace Corps volunteer, while they were both serving in Sierra Leone. Their eldest daughter Jessica was born in Freetown. Being now retired in Chester, England, the city of his birth, he continues to serve with SAVE via online meetings.
His career has seen him work in several different countries. Serving in the UK, Mauritius, Sierra Leone, Zimbabwe, USA, and Kosovo he has had contacts with Scripture Union. While working with the American University in Kovoso (AUK), his last full-time appointment, he helped to found SU Kosova, which is the youngest national SU movement in Europe. His AUK appointment was as Vice President of Academic Affairs and Director of the Energy Center. His engineering appointments have mainly been in higher education teaching in subject areas including mechanical design, computer assisted manufacturing and energy policy. For almost 40 years he has been interested in energy and the environment, and international development. He has published in this area. He and his wife returned to the UK in 2016 and are current members of an independent evangelical church, the City Church Chester.
Dr. David Musa, Executive Director
Dr David Musa (Executive Director) was born in Mano, Sierra Leone. He came to know the Lord Jesus Christ as his personal Savior through the ministry of Scripture Union of Sierra Leone (SUSL) and when a college student he was a dynamic leader in the college Christian Union. On completion of his degree from the University of Sierra Leone (Fourah Bay College, Freetown) he ministered for two years full-time with the Scripture Union.
After working with SUSL he pioneered the ministry of the Sierra Leone Fellowship of Evangelical Students (SLEFES, Sierra Leone's equivalent of Inter- Varsity, USA) and was its first full-time national worker. He currently lives in Seattle, Washington. Currently, David is adjunct Prof. teaching J-term African classes for Carthage College, Kenosha, Wisconsin and also teaches as an adjunct at the Fuller Theological Seminary (Fuller North West – Seattle, WA). He is married to Ndidi (also from Sierra Leone). with two sons, Ndiloma and Ukejeh, and a daughter Ngozi, and they attend Shoreline Community Church in Seattle.
Dr. Emeric Palmer, Vice President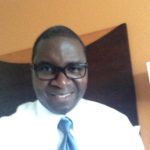 Emeric is a practicing physician who grew up in Sierra Leone and has lived in the United States for over 20 years. Emeric has been a member of SAVE since 2009 and is a part of its healthcare advisory team responsible for coordinating healthcare-related activities . As a high school then a university student, Emeric was a member of SAVE's partner student organizations in Sierra Leone, the Sierra Leone Fellowship of Evangelical Students (SLEFES) and the Scripture Union Sierra Leone.
Emeric is board certified in Internal Medicine, Wound Care and Hyperbaric Medicine and is a Fellow of the American College of Physicians. He is currently Senior Medical Director of Resource Utilization at a hospital system in Virginia. He maintains clinical activity in advanced wound care and hyperbaric medicine, and previously held academic positions, including Assistant Professor of Medicine at the University of Illinois, Chicago, with Advocate Christ Medical Center. Emeric completed his Residency training at Mercy Hospital & Medical Center/University of Illinois, in Chicago.
He is a casual soccer fan and finds his greatest pleasure in spending time with his family. He's married to Sylvia and they have two children. They are members at Grace Covenant Church in Chantilly, Virginia.
Larry Moran, Treasurer
Larry is a Certified Public Accountant familiar with the vision of SAVE from its birth in 1997, eventually joining the Board in 2008. He spent 10 years in public accounting, and 7 years in administration of professional firms. He was the CFO of an Indianapolis-based manufacturer and marketer of haircare products for 14 years until it was sold in 2007.
Larry has been active on several non-profit boards, ranging from an international music competition to a small inner-city church. He has been the worship band leader at his church, Zionsville Fellowship (Zionsville, IN) for over 20 years. Larry has travelled to Sierra Leone in 2010 and 2012 and again in 2020 to see both the beauty and the challenges we face, along with the incredibly gifted and committed partners with whom we have the privilege of working in the country. Larry is married to Diane and has two sons and their families, and resides in Carmel, IN.
Rebecca Davies-Venn, Secretary
Rebecca (Becky) was born and raised in Freetown, Sierra Leone. She attended Fourah Bay College, University of Sierra Leone graduating with a B. Sc. in Honors Zoology degree. She worked for the Institute of Marine Biology and Oceanography; and the Sierra Leone Government Fisheries Division before immigrating to the United States.
She obtained a Masters in Library Science degree from the University of Maryland, College Park. She worked as a Librarian at the National Library of Medicine, National Institutes of Health, Bethesda, Maryland.
Rebecca accepted Christ as her personal Savior at a Scripture Union camp in December 1971. She was a member of Zion Youth Fellowship, the Bible Study Union, and Intervarsity Fellowship at Fourah Bay College. She attended several Scripture Union camps and retreats. She loves to praise the Lord in song, and has sung in several choirs including the Gospel choir in her current church.
She is married to Christian Davies-Venn, they have 2 grown daughters, Esther and Cynthia (Frank) and 1 granddaughter – Gabrielle. She and Christian are members of Fairhaven United Methodist Church in Gaithersburg, Maryland. She is active in the Alumni Associations of Freetown Secondary School for Girls, and Prince Of Wales School.
Christine Follman
Chris is a passionate leader for those less fortunate in Sierra Leone. She has served on the board of directors since 2000 and has been involved in three medical mission trips with SAVE. Receiving a Bachelor of Science in Education from Northern Illinois University, she spent her career in Illinois as a teacher for more than 35 years.
Chris has served in the church her entire adult life as choir director, Women's Missionary League and adult and youth Sunday school teacher.
Her medical background includes past work experience in the Emergency room, trained emergency first aid, and was Former Emergency Medical Technician at Sherman Hospital, Elgin, IL. She also worked in prison ministry for more than 20 years as founder and president of Jesaiah House. She has also invented a soft cervical collar travel pillow and currently sells in airports across the country.
Chris is mother of two adult children, grandmother to six, great grandmother to three, and a member of The Tabernacle Church in Sarasota, FL, currently leading adult Bible studies.
Richard Gurley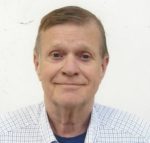 Dick retired after a career as an engineer, manager and executive with a manufacturer of gas turbine engines. His career centered on the support of military customers with numerous assignments in the sales, support, and quality organizations. During his career, he was involved in Missions work founding ABBA Press, Inc. to assist organizations publish Christian material behind the Iron Curtain and in other countries where missionaries were not welcome.
Dick and his wife, Cathy, are very active in their local church, where they have been small group leaders for over 20 years, conducting worship, bible studies, prayer and pastoral functions. Additionally, they work together as Lay Counselors mentoring in difficult marriage situations. Dick was also a member of the finance team and led the capital campaign to raise the funds for our church building.
His primary responsibility is to be the husband of one beautiful wife, three grown children, and eight grandchildren. Retirement has given him the opportunity to spend time with each of them. When not busy with His work or family, he is a licensed instrument pilot, aircraft builder, and accomplished woodworker
Dr. Radcliffe Jones, MBBS
Rad has been a member of the SAVE board since its inception. He was born and raised in Freetown, Sierra Leone. He committed his life to Jesus Christ at a Youth for Christ rally in late teens, and was an active member of Bible Study Union at Fourah Bay College from 1974-79, from where he graduated with an honors degree in Zoology. He sang in two groups – Gospel Youth Singers and His Ambassadors from 1972 to 1981. These ministries contributed immensely to his spiritual growth and development
He graduated from University of Ibadan Medical School in 1985. He travelled to Trinidad where he completed an internship and then practiced for a short time before coming to the US for residency training. He completed a residency in General Pediatrics in 1992 and a fellowship in Ambulatory Pediatrics in 1995, both at Indiana University. He moved to Kokomo, Indiana with his family in July 1995, where he has been in General Pediatric Practice, a part of the Community Physicians Network.
Rad has been married to his wife, Sylvia from Sierra Leone too, since December 1982, and they attend Family Worship Center in Kokomo. They have a son, Handel (his wife, Jessica) and a new grandson.
Pastor Edgar Momoh
Edgar James Momoh holds a BA (Hon) degree in Christian Education and Missions from Kenya Highlands Evangelical University, MA degree in Christian Education from Nairobi Evangelical Graduate School of Theology (NEGST)-Kenya. He also holds an MA degree in Peace and Development Studies from Njala University – Sierra Leone, and an Advanced Graduate Diploma in Evangelical Trainers Association (ETA).
Edgar currently works as associate in pastoral care at Zionsville Fellowship, Zionsville, Indiana. Previously he was the head of department of Church Empowerment and Advocacy at the Evangelical Fellowship of Sierra Leone (EFSL), an umbrella body of evangelical denominations and para-church organization in Sierra Leone, and one of SAVE's foundational partners. He also served as an associate minister with Christians in Action Church and a College teacher in Kenya and Sierra Leone. He is married to Caroline and they have two girls – Patience-Lou, Donna-Joy and a boy, Edgar James Jr.
Pastor Tayo Salako
Tayo is the Pastor of The City On The Hill Chapel in Milwaukee Wisconsin. He is a Professional Engineer (PE) with a Masters Degree in Environmental Engineering (Newcastle U'Tyne England) and also a Certified Network Engineer (CNE). He was an associate pastor in Eastbrook Church, Milwaukee for 6 years where he coordinated the Nigerian Fellowship in Milwaukee. He is of Nigerian decent but resides in the USA. He is married to Titlilola with two girls, Ifeoluwayimika and Oluwayanmife and two boys, Oluwatofe and Oluwafifehanmi.